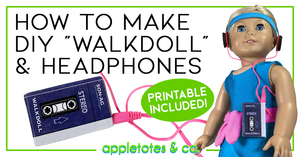 The new 80s American Girl Doll of the Year is out and we have the perfect DIY accessory project to go with her, the classic 80s Walkman modified and scaled down into the SON-AG Walkdoll! This project can be made with three items from Dollar Tree and a few crafting supplies you probably already have around the house.  From the Dollar Store (we went to Dollar Tree) you will need: Happy Birthday Tiaras, Plastic Earbuds and Chalkboard Signs (the Chalkboards come with stokes as shown or some have clothes pins - either will work).  You will also need scissors, black...
---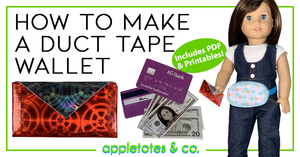 Teeny tiny wallets for 18" dolls aren't the easiest thing in the world to sew, but we've got you covered with this fun and easy DIY tutorial to make an 18 inch doll wallet out of decorative duct tape you can find at the Dollar Store!Bonus: when you download the FREE PDF guide, you'll get the free doll money and credit card printables so you have something to fill up the wallet right away :)For this project, you'll just need the duct tape, something to cut with, and a small square of hook and loop tape (Velcro®), or anything else...
---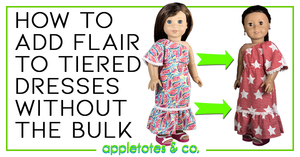 One of the best parts of sewing for dolls is using your creativity to make every pattern into as many variations as possible. But sometimes you just need a clever hack to make it happen. That's what we're doing today :)After taking a second look at our Madison Avenue 2-in-1 Blouse/Dress pattern, I realized another fun way to make this pattern would be with a more flared skirt, so I created this blog post to teach everyone how to make that adjustment.But, really, you can use this hack on any pattern with a rectangular upper skirt and bottom ruffle. In this...
---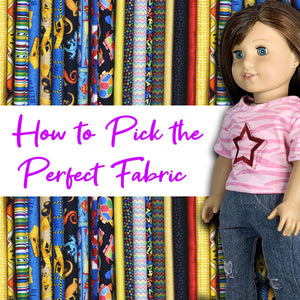 Nothing beats sitting back and looking at a finely crafted garment of your own creation adorning your favorite doll. Every stitch is perfect, every seam in place, and, of course, the fabric choice is impeccable.But how do you make sure you nail picking the perfect fabric every time? That's what I'm here to show you today!Stick around to find out about: The easiest fabrics to work with for doll clothes Draping and structure considerations Scaling down prints and embellishments  Creative ways to find fabric you've never thought of Ready? Let's get to it... Choosing a Fabric Material Fabric material choice is...
---
Updated 1/12/2021 Making your own doll shoes can be intimidating. No doubt about it. But what if I told you that a couple secrets and a few fun new tools will change the way you think about crafting doll shoes forever? (We'll get to all that in just a minute.) First, we promised to show you how to make doll shoes without sewing a stitch, so check out this quick video that shows you every step and just how easy it can be. But make sure to keep reading underneath the video to see… The perfect glue gun that makes...