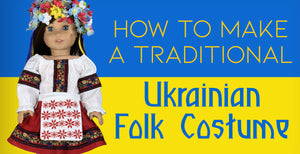 In this post you will learn exactly how to create a traditional Ukranian folk costume, complete with flower crown, peasant top (you will need a pattern), and an apron over a dirndl skirt. The traditional Ukrainian folk costume has embroidery around the neckline, a slit opening, closed by a tassel. We found similar costumes using a peasant top so this is a good substitute. As a shortcut, we used and modified our Peasant Dress pattern to use as the top.  And for the skirt and apron, get the Dirndl Skirt pattern with the bonus apron FREE through Sunday 03-27-22 as...
---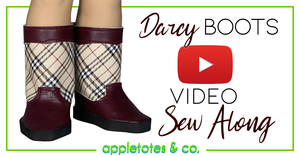 Hi and welcome to the on-demand version of the Darcy Boots for 18" dolls video sew along, brought to you by our friend Connie Tkach of the sewing project sewing school! This was originally a live sew along on Facebook and we've archived it here so anyone can follow along with the videos to make these adorable shoes. There are two videos in this sew along that will guide you from start to finish making the boots. There are also tons of tips and tricks from Connie's experience that make creating these doll boots fun and easy.You will need the Darcy Boots pattern. Click here...
---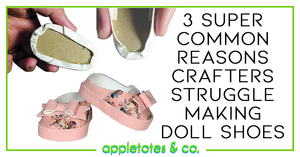 You've seen the PERFECT doll shoes to compliment the doll clothes you've been meticulously laboring on. You know they exist. After all, we all know there is such a thing as just the right shoes for an outfit. But then you realize if you want to have them, you must make them yourself. Oh well, doll shoes are super hard to make so we'll just have to dream, right? WRONG! The truth is, once you get the hang of it, doll shoes are crazy easy. And they're just so much fun and so rewarding to make yourself! So, today we're breaking...
---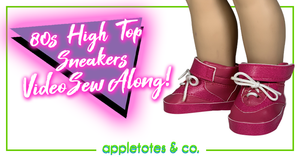 On-demand version of the 80's High Top Sneakers for 18" dolls video sew along, brought to you by our friend Connie Tkach! There are four videos in this sew along that take you from gathering the tools and materials you'll need, all the way through every step, right up to lacing these cuties up.
---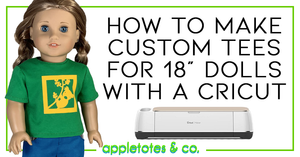 Learn to easily make a custom t-shirt for your 18 inch doll with these simple instructions, our t-shirt pattern with SVG files (optional but it makes this sooo easy), and an SVG design of your choice!